Duplication and Replication
Direct-to-Disc Printing
Highest quality Xeikon digital printing
Accurate color and sharp text
High gloss finish
Fast turnaround
Responsive service
We offer 4-color digital process printing on our discs and multiple packaging options including: jewel and DVD cases, custom jackets, vinyl, Tyvek, poly sleeves, posters, booklets, shrink wrap, and more.
If you need high volume manufacturing of 1,000 pieces or more, KaSa CMT can easily handle your request. No job is too big or small!
Our turnaround time is among the fastest in the industry. Typical job turnaround is 10 to 12 business days. But if you need it sooner, ask us about Express Services. All orders are shipped via FedEx or UPS.
Express services for those jobs that require FAST turnaround
Under pressure to deliver? Standard turnaround on the following services is 2 to 3 days, but if you need your order immediately, KaSa CMT can also provides same day service!
CD, DVD & BluRay media duplication
High quality insert printing
Final packaging production
Unheard of turnaround times
For those times when quick turnaround just doesn't seem fast enough, call us at 603-784-5327
Advertising Agency Services
Make your client look good — even under the tightest time constraint. Our professional high quality CD/DVD & BluRay services are the ideal choice for clients who know the difference. And we offer quick turnaround time to meet your customers' needs.
We perform well under pressure — your kind of pressure — creative pressure with a deadline.
Corporate Software & Data Services
We offer high volume manufacturing among the fastest turnaround in the industry.
Express Service & Distribution available. Orders ship FedEx or UPS.
Music & Video Replication Services
Just starting out? No time to waste? Looking to create an impressive professional image? KaSa CMT is at your service!
Provide a master and we'll duplicate or replicate whatever quantity you require. Need help with graphic services? We have a full graphics staff who can help you create just the look you want!
Whether you're just starting our or want to continue building on your success, KaSa CMT can provide the superior quality you need to look like a real pro.
Distribution Services
Want to buy quantity but don't have storage room, or don't want to bother with fulfillment?  KaSa CMT can also provide distribution services for any mass deliveries you don't have time to handle yourself.
Burning your own CDs?  Add a polished look with pre-printed "burn your own" discs.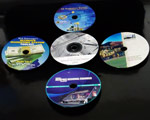 If you like to burn your own custom CD & DVD discs, do it with style! KaSa CMT offers high definition Xeikon digital printing on any CD-R,
DVD-R or BluRay blank media. Once they are pre-printed, these custom, professional looking discs are ready to burn!